Meet Alexander Wang (as if you already didn't know), a Chinese-American designer who is a California native. At only 18 years old, he moved to New York City to attend Parsons Design School and work many intern jobs. He launched his full womens collection in 2007, selling internationally to over 200 boutiques and retail stores. A full accessories collection followed in 2008. Now, Alexander Wang is 25 and resides in New York City's LES, or Lower East Side. He has been recognized world-wide and has received a few, well deserved top honors and awards. He is definitely a L.E.S. Artiste.
Taken from WWD:
"[Fall] was the season where people really recognized us," says Wang. "We're under a microscope now. We have to watch our moves and make sure everything we do is right."

"I'm not taking away from what I'm selling, and confusing the customer. I realized there were no T-shirts that spoke to my aesthetic," he says. "You have those L.A. brands and then you have the $200, $300 shirts from The Row and Rick Owens."

"Necklines are stretched and armholes are strategically lowered so that it looks worn in," he explains. "It's like sleeping in a T-shirt and then wearing it the next day. It's not this crisp little T out of the dryer. It's draped and kind of wilted."

"Everyone's been doing an open-toe," says Wang. "I added the thong to give a fresh perspective and make it more provocative. The thong between your toes, it draws your attention to that area."

"It's just an evolution now," he remarks. "People are either going to love [the changes] or hate [them], but they'll recognize you for it. You have to show that the brand can evolve and that there's a future for it."
He's already helped friend and long time model Erin Wasson set up her own fashion line! She said that he was the one to get her started and now, Erin Wasson for RVCA will be in stores and it's looking fab!
You can see celebrities wearing and sporting Alexander Wang clothing!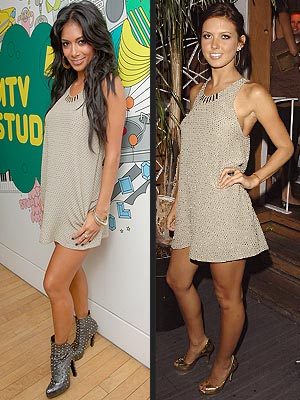 This amazing and creative designer isn't going anywhere, at least not yet. He'll hopefully moving onto better things. Look out for him and check out his stuff at retail stores and boutiques around the world. They're fresh and ready-to-wear! Although you see the models sporting them down the runway, they're still wearable on the streets too. Amazing, isn't he? He is.
Don't forget about the face of this wonderful designer,
Alexander Wang
because he'll be sticking around. Click his name to be redirected to his site!!

By the way, those shorts are God's gift to us, oh my goodness. Thank you Alex.