This week was a sad, sad week for the fashion industry and also for the Olympics.
First, the news came about around two-three days ago about Lee Alexander McQueen commiting suicide, and then it was confirmed that he was dead.
Alexander McQueen was, in my eyes, a legend in the fashion industry. They're assuming that he took his own life because he was having a hard time dealing with the death of his mother, which happened about a week before his own death.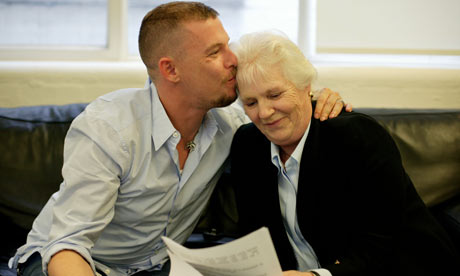 Alexander McQueen was an extraordinary designer who thought outside of the box and broke all the 'rules' of fashion. Hiring disabled, large and unusual models for his runway shows, designing over the top clothes with basically perfect tailoring and having the signature skull print on scarves and such, Alexander McQueen definitely made his mark in fashion.
Rest in paradise, Alexander McQueen.
-
Tragic event after tragic event. Vancouver's 2010 Winter Olympics opened yesterday, but Nordar Kumaritashvili died in a luge accident while practicing for the Olympic Winter Games. If any of you have seen the video, it honestly made me turn away and tear up. It's so hard to watch. Nordar was so young and now he can't live his dream, or even compete in the Olympics.
Rest in peace, Nordar.